Resisting the Bonhoeffer Brand: A Life Reconsidered
Posted on April 26, 2023 by PLT Staff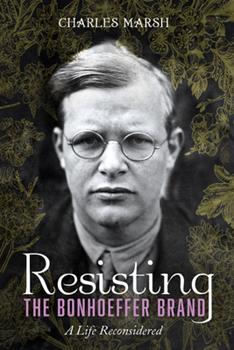 Charles Marsh responds to criticisms of his book Strange Glory: A Life of Dietrich Bonhoeffer by exploring the largely unexamined relationship between theology and biography. In Resisting the Bonhoeffer Brand, he argues that Bonhoeffer scholarship desperately needs the revitalizing energies of the theologian's life story revisited and uncensored by the guild.
Excerpt: "From the start, Bonhoeffer insisted that the essence of Christianity was not its abstract precepts but the concrete reality of lived faith. Following Hitler's appointment as Reich Chancellor in 1933, the German church was soon Nazified, along with every other state-sponsored institution, but it was the Nuremberg laws that set Bonhoeffer's earthly life on a collision course with the führer. His denunciation of the race statues as heresy and his insistence on the church's moral obligation to defend all victims of state violence, regardless of race or religion, alienated him from what would become the Reich church and even many fellow church dissidents. Bonhoeffer would find himself a voice crying in the wilderness, until, finally, he understood that true moral responsibility obliged him to treason, a trajectory for which he would pay with his life."
Charles Marsh is the author of Evangelical Anxiety: A Memoir (2022) and Reclaiming Dietrich Bonhoeffer: The Promise of His Theology and Strange Glory: A Life of Dietrich Bonhoeffer, which won the 2015 Christianity TodayBook Award in History/Biography and was shortlisted for the PEN/Jacqueline Bograd Weld Award for Biography. Marsh teaches in the department of religious studies at the University of Virginia and lives in Charlottesville, Virginia.
Reviews and endorsements of the publication include:
"Charles Marsh's latest book is essential reading for anyone interested in the ongoing, nothing-if-not-spirited debates over the life and legacy of Dietrich Bonhoeffer. Readers will find in these pages so much more, including the kind of searching, stirring reflections on the meaning of history and biography that we have come to expect from one of our era's most brilliant theological minds."
—Heath W. Carter, Princeton Theological Seminary
"Bonhoeffer warned against being infatuated with a self-made idea about Christian community but not loving the actual community as it is: gritty and human, complex and wondrous. What a turn then—now we need Marsh to offer the same warnings about how we read Bonhoeffer himself. We like our saints to fit tidy boxes and rubber-stamp our presumptions. Marsh, with his historian's eye and novelist's pen, won't let us make this mistake."
—Winn Collier, Western Theological Seminary
"Charles Marsh offers deep insights about the relationship between theology and biography, and he makes an eloquent, compelling case for reinterpreting Bonhoeffer's extraordinary life. And as he confronts his fiercest critic, Marsh lifts the lid on the territorial passions simmering beneath a scholar's patient labors."
—Clare Carlisle, King's College London
Publication Information
Publication Type: Book
Publisher:Wipe and Stock
Date of Publication:February 2023
Purchase: Buy this publication »