Patterson Will Speak on Zoom, April 13 at 7:00 p.m. EST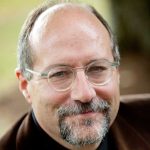 Louisville Seminary and the University of Louisville proudly present the 2021 Grawemeyer Religion Award Lecture on Tuesday, April 13, from 7:00 to 9:00 p.m. EST. The event is free on Zoom, but registration is required here.
This year's Grawemeyer Religion Award recipient, Stephen J. Patterson, will present "You are the Children of God: Christianity's First Creed." His lecture is based on his 2021 Grawemeyer Award-winning book The Forgotten Creed: Christianity's Original Struggle against Bigotry, Slavery, and Sexism (Oxford University Press, 2018).
In his book, Patterson explains that early Christianity's first creed, which was quoted in Paul's letter to the Galatians (3:26-28), claims that we are all God's children. The original baptismal creed, which Paul did not write, but quoted and adapted, is:
For you are all children of God in the Spirit.
There is no Jew or Greek;
There is no slave or free;
There is no male or female.
For you are all one in the Spirit.
In The Forgotten Creed, Patterson unpacks this creed in the context of the Greco-Roman world when Jesus was still fresh in the memory of those who knew him. Patterson, the George H. Atkinson Professor of Religious and Ethical Studies at Willamette University, claims that the first followers of Jesus were taking on race, class, and gender in the midst of conflicts between Greeks and Jews, the slave economy, and the gender dynamics of the time.
Charles Marsh, director of the Project on Lived Theology, won the Grawemeyer Award in 1998 for his book, God's Long Summer: Stories of Faith and Civil Rights, which is being adapted into a film, to be produced by Oscar-winning performer and activist Common.
The Grawemeyer Award in Religion is made possible by the creative generosity of the late H. Charles Grawemeyer. Louisville Seminary, jointly with the University of Louisville, awards the $100,000 prize to honor and publicize creative and significant insights into the relationship between human beings and the divine. The award also recognizes ways in which this relationship may inspire or empower human beings to attain wholeness, integrity, or meaning, either individually or in community.
The Project on Lived Theology at the University of Virginia is a research initiative, whose mission is to study the social consequences of theological ideas for the sake of a more just and compassionate world.