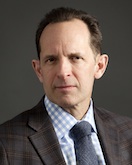 Project director Charles Marsh will read from his new book, Strange Glory: A Life of Dietrich Bonhoeffer at The Haven at First and Market on Thursday, April 24 at 5:30 p.m. Books will be available for purchase, and a signing will follow. Light refreshments will be provided by A Pimento.
The Haven is located at 112 West Market Street in Charlottesville.
To RSVP for this event, click here.
For more information about Strange Glory, click here.
For the book tour schedule, click here.
Visit livedtheology.org often, like us on Facebook, and follow us on Twitter for updates on book events around the country. Join the conversation about the book with #StrangeGlory.
From the publisher: "Charles Marsh brings Bonhoeffer to life in his full complexity for the first time. With a keen understanding of the multifaceted writings, often misunderstood, as well as the imperfect man behind the saintly image, here is a nuanced, exhilarating, and often heartrending portrait that lays bare Bonhoeffer's flaws and inner torment, as well as the friendships and the faith that sustained and finally redeemed him. Strange Glory is a momentous achievement."