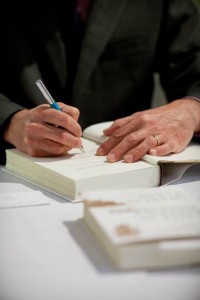 Project director Charles Marsh began the celebration of  Strange Glory: A Life of Dietrich Bonhoeffer in his hometown of Charlottesville, Virginia on April 24, at The Haven. This successful event brought out over 200 community members for a reading, signing and reception. New Dominion Bookshop hosted the book sales and A Pimento catered the event.
From there he made stops at City Seminary and New York Theological Seminary in New York City and continued the following two weeks with stops at southern independent book stores and congregations.
After a brief pause for U.Va. graduation and some time with his family in Charlottesville, Charles resumed his book tour with appearances in Winston-Salem and Raleigh, North Carolina. He finished up this current stage of the tour with two Sunday lectures: one at the National Presbyterian Church in Washington, D.C. on June 1st and the other at Trinity Church in Boston, Massachusetts, on June 8th.
Visit livedtheology.org often, like us on Facebook, and follow us on Twitter for updates on book events around the country. Join the conversation about the book with #StrangeGlory.
Click on the tabs below to view pictures from Charles's book tour journey. If you can't see the tabs, click on the article title above. For more information on book talk venues, click on their logos. A interactive Google map is also available for you to explore at the bottom of this post.
Strange Glory: A Life of Dietrich Bonhoeffer was published on April 29, 2014 by Alfred A. Knopf. Charles Marsh, director of the Project on Lived Theology, powerfully brings to life the struggles, triumphs, and transformations of Dietrich Bonhoeffer—German pastor, dissident, and conspirator in the resistance against Hitler and the Nazi party. No other theologian has crossed as many boundaries as Bonhoeffer while remaining exuberantly, generously Christian.