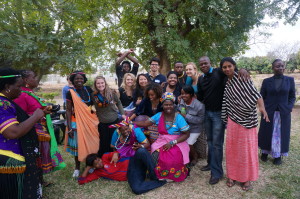 The final papers of the Project on Lived Theology's 2014 summer interns are now available online. This year's interns include Claire Constance and Peter Hartwig, two U.Va. undergraduate students who, with the guidance of a mentor, studied with the partnering institution of their choice for the summer. Claire traveled to Limpopo, South Africa to train community health workers in child development assessment and intervention, while Peter taught a 10-week course on American religious autobiography at the Albemarle-Charlottesville Regional Jail. Both students blogged regularly for the Project throughout the summer reflecting on their experiences.
The Summer Internship in Lived Theology complements the numerous existing urban and rural service immersion programs flourishing nationally and globally by offering a unique opportunity to pursue service as a theological activity. The internship further encourages students to interpret moral action in its differing religious contexts.
Read Claire's paper here. Read Peter's paper here. To learn more about the Summer Internship in Lived Theology and past interns, click here.