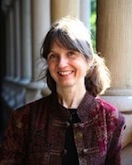 In anticipation of the 2013 meeting of the Virginia Seminar in Lived Theology convening this week, Susan Holman offers insight on the task of writing lived theology. Please read her essay "On Writing Lived Theology" by clicking here.
Susan Holman was a member of the first Virginia Seminar in Lived Theology and is author of a book produced out of her time with the Virginia Seminar entitled: God Knows There's Need: Christian Responses to Poverty. For more information about Susan Holman please read a brief biography about her here, and an interview with her here. Visit her blog here.
The Virginia Seminar in Lived Theology is a theological initiative that offers theologians and scholars of religion an opportunity to work and write in sustained engagement with critical issues in religion and public life; and it further provides practitioners the time to think and write in sustained and direct engagement with theologians and scholars.