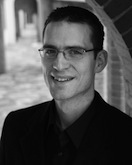 Trinity Institute has named U.Va.'s Willis Jenkins as the grand prize winner for the Trinity Institute's 44th National Theological Conference, "Creating Common Good: A Practical Conference on Economic Equality," for his essay "Is Plutocracy Sinful?" Presented by Trinity Wall Street, Trinity Institute is an annual conference designed for theological scholars and pastors of all faith denominations to discuss and reflect on theological and social perspectives while cultivating dynamic leadership.
From the Trinity Institute press release:
Winners were asked to examine the post-2008 economic context and offer solutions on how best to pursue God's promise of abundant life against the backdrop of the global financial crisis. The three essays presented alternatives to the status quo that are consistent with scripture, theological traditions, and contemporary understandings of human flourishing.
The first-place prize is a $10,000 award; the runners-up will each receive prizes of $2,500. All three essays will be published in the Anglican Theological Review in February 2016 and the three winners will participate in a panel discussion at Trinity Church on November 8, 2015. The discussion will be webcast at trinitywallstreet.org.
Willis Jenkins is the director of the religious studies graduate program at the University of Virginia and an associate professor of religion, ethics, and environment. He received a bachelor of arts degree in theology from Wheaton College, and moved on to get his M.A. and Ph.D. at the University of Virginia. Professor Jenkins worked as an associate professor at Yale Divinity School and has authored two award-winning books, The Future of Ethics: Sustainability, Social Justice (2013), and Ecologies of Grace: Environmental Ethics and Christian Theology (2008). He has also written a number of papers including "Atmospheric Powers, Moral Incompetence, and Global Injustice," "Sustainability and Religion," "After Lynn White: Religious Ethics and Environmental Problems," and many more. He is currently working on three projects: a monograph entitled "The Moral Ecology of Food," a textbook introducing religion, ethics, and environment, and a handbook to religion and ecology.
For more information on Trinity Wall Street or Trinity Conference, click here. To find various resources by Jenkins, click here.
For more of featured writings of our PLT Contributors, click here. To engage in the conversation on Facebook and Twitter, @LivedTheology, please use #LivedTheologyWrites.