In Conversation with Charles Marsh on Social Justice and Spirituality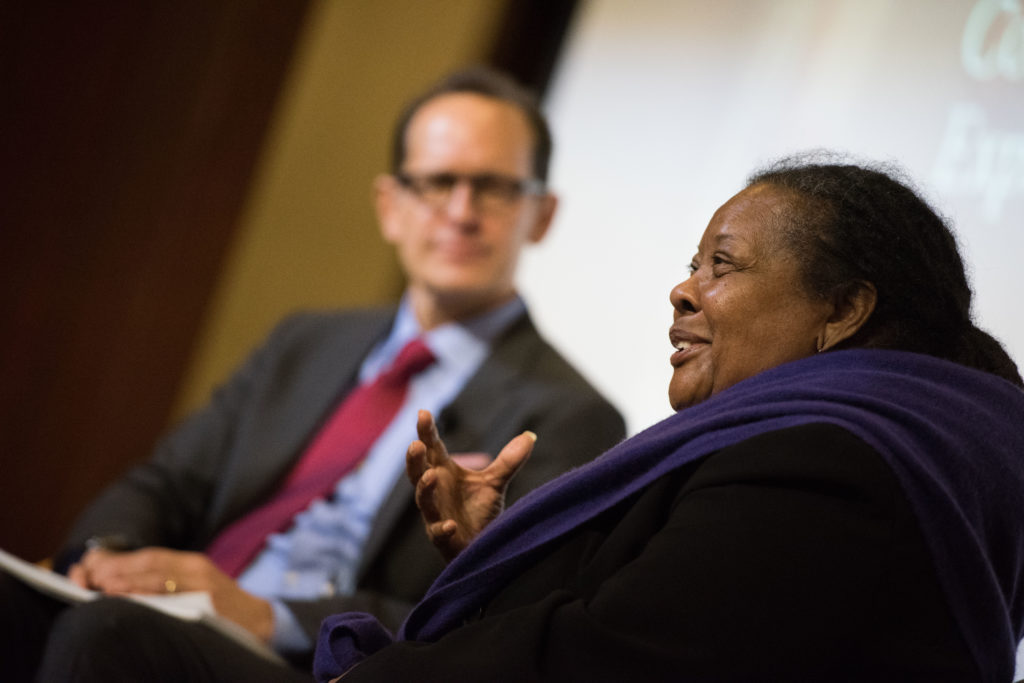 On November 29, civil rights leader and public theologian Ruby Sales traveled to Charlottesville to participate in a public conversation on social justice and spirituality hosted by Virginia Foundation for the Humanities (VFH).
The event, Every One of Us: A Conversation with Ruby Sales on Race, Spirituality, and Public Life, featured a dialogue between Sales and Charles Marsh, engaging Charlottesville community members on critical issues of race, spirituality, and public life. Extensive community interest brought 398 guests to the event, overwhelming the official capacity of the Jefferson School African American Heritage Center of 200. While there was standing room only, even those with a seat rose to close the program with a standing ovation.
In an opening discussion on fellow civil rights witness Victoria Gray Adams, Charles Marsh asked Sales, "What is the unfinished business of the civil rights movement today?" Sales answered:
"These are the questions that are still on the table today. Movements seek to raise up our consciousness from the low level of empire consciousness to the high level of mountaintop consciousness, where we begin to see the world and each other in very different, and larger, and more relational ways. Because it is in the process of moving up to a high level of consciousness that we come to know a full meaning of God and we come to know each other in community.

So I think the question is still on the table today as white supremacy is rampant in this country, as political speech is violating, dehumanizing, and degrading, as white anger threatens to shed the very curtains of democracy in this country that threatens the lives of not only people of color, but also women… I think we are facing a spiritual crisis in America today. It is a spiritual crisis of meaning that gets at the very heart of what kind of people we will be in the twenty-first century in a capitalist technocracy where very few lives matter and most of us are unessential. I think that peace is not an abstraction."
Her visit to Charlottesville also included an intergenerational master class at UVA, a roundtable lunch discussion with local community leaders, and a private dinner hosted by New City Arts Initiative. At the conclusion of her trip, Sales shared her plans to develop a history-focused reading list for people interested in her work and ideas, to be compiled and shared by VFH with the public.
To watch this discussion in full and view photos of the event, click here. More information on Ruby Sales can be found here.
Fellow travelers are scholars, activists, and practitioners that embody the ideals and commitments of the Project on Lived Theology. We admire their work and are grateful to be walking alongside them in the development and dissemination of Lived Theology.
Charles Marsh is the Commonwealth Professor of Religious Studies at the University of Virginia and the director of the Project on Lived Theology. His research interests include modern Christian thought, religion and civil rights, Dietrich Bonhoeffer, and lived theology.
PLT event updates can be found online using #PLTevents. To browse our PLT resource collection, click here. Updates on our resources can be found online using #PLTresources. To get these updates, please like us on Facebook and follow us on Twitter @LivedTheology.