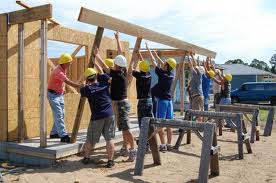 The Project on Lived Theology has selected three U.Va. students for the Summer Internship in Lived Theology 2013. Kate Farrell, Camille Loomis, and Reilly O'Hara will spend the summer exploring how service informs and shapes religious belief, and how religious belief informs and shapes service. The Summer Internship in Lived Theology offers the unique opportunity to pursue service as an explicitly theological activity. Interns' reading, writing, and conversation with their mentors enable them to reflect on their work theologically.
Meet our interns and learn about their plans below. Then visit our internship page to learn about past interns and their work, and to read our intern blog.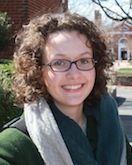 Kate Farrell grew up in Roanoke, and in 2009 she began to develop an interest in Catholic social teaching through encounters with the refugee population in her hometown. Relationships formed with this marginalized community through an internship in 2011 with Commonwealth Catholic Charities shaped and solidified her conviction that engaging in social justice is a necessary component of living the Catholic faith. Throughout her years at U.Va., Kate has engaged in practices of social justice in the Charlottesville community, but seeks to bring her interest in social justice into conversation with her academic studies in religion and studio art through an internship with the Catholic Worker community outside of London.
Throughout the summer, Kate plans to study ways in which theology is practiced through social activism by studying the Catholic Worker movement, other Catholic groups or notable activists, and other religious groups.  She will make comparisons between these different persons and groups and the original intent and workings of the Catholic Worker house as started by Dorothy Day and Peter Maurin. In addition to this academic study, Kate plans to create a body of artwork based on her experience at the Catholic Worker Farm.
Camille Loomis is a third year student majoring in religious studies and art history. In her academic study, Camille has explored the relationship between faith and art, particularly sacred art of the medieval period. Camille is especially fond of theological questions concerning the aesthetic and mystic mind. A lifelong musician, Camille has also served as music director for her student theatre group and a cappella vocal group.
Camille will spend the summer volunteering with The Haven, a day shelter in Charlottesville for homeless and very poor folks. Day to day operations of The Haven include greeting and socializing with the visitors, serving meals in the kitchen, providing access to showers, laundry, storage, and computers, and directing visitors to service providers in the building. Camille will explore how faith informs the running of The Haven.
As an extension of her interest in the relationship between spiritual expression and art, Camille hopes to instate an art project for the volunteers and guests of The Haven. Her vision is to create and support some sort of ongoing arts and crafts station for guests, perhaps where they can paint, make jewelry, or learn simple songs on the keyboard or harmonica. The purpose of this arts endeavor is to develop a sense of community encouraged by common artistic undertaking, and to foster a safe space to express personal identity.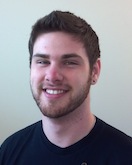 Reilly O'Hara is a third year religious studies and foreign affairs double major from Falls Church, Virginia. He transferred last year from University of South Carolina and has loved U.Va. since he first stepped on grounds.
Reilly hopes to work with two organizations this summer–School for Conversion and Urban Hope–both in Durham, NC. School For Conversion (SFC) is a non-profit headed by Jonathan Wilson-Hartgrove. It follows closely with the ideals of New Monasticism as it seeks to realize strong community in the "margins of society." The programs and initiatives of SFC are aimed at social reconciliation and development and are realized through this deep sense of community. Reilly is planning an administrative internship with SFC to explore the inner workings of a non-profit including event planning, writing, research, and accounting.
Urban Hope is a camp in an economically under-resourced part of Durham called Walltown. The camp serves 30-40 Walltown youth from grades 5-10 and has five primary focuses: career and entrepreneurial development, spiritual development, leadership development, recreation, and financial literacy. Through both formal and informal means, the program seeks to develop the kids both practically and spiritually, equipping them for success in both areas. The Walltown area is an urban setting of great need and this program concentrates on the youth, the future of this community, in an effort to increase overall quality of life.