They are like trees planted by streams of water, which yield their fruit in its season, and their leaves do not wither. Psalm 1:3
It's tempting to value a tree only for its fruit. That is, arguably, the best part, at least in terms of what is the most beneficial for us. What we tend to overlook, however, are the roots, the very source of life for the tree, and thus the reason we get to enjoy the fruit it produces. Like the tree in this first Psalm, I know of no tree that is able to thrive and produce fruit without a robust system of roots to provide nourishment to the rest of the tree.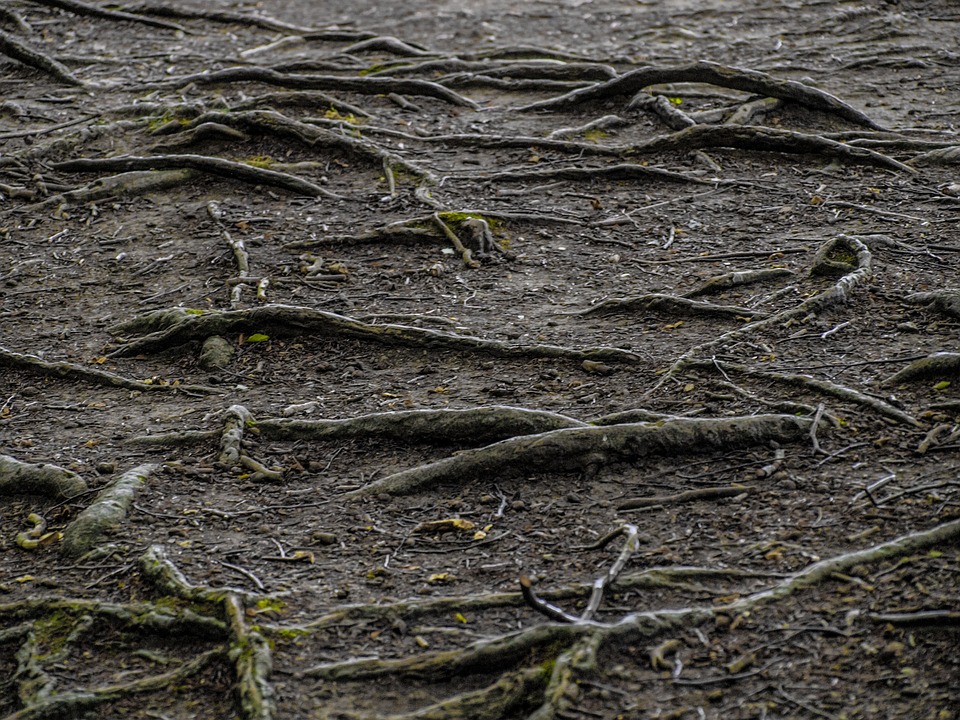 We are much like trees: designed and created to bear fruit as a gift and blessing to others, but only through a rootedness that provides access to the nutrients necessary for life and growth. As a Christian, I believe the true source of life for us is found in the saving work of Jesus Christ through his death and resurrection. Planting yourself firmly within that truth leads to flourishing and enables God to produce good fruit through you. Once we know that the source of every good and perfect gift is a rootedness in Christ, the pressure to try and create that fruit on our own falls away. In the seasons God sets for our lives, he will produce good things in and through us.
While our eternal, life-giving roots are found in Christ, we all have earthly roots that play an important role in shaping the nature and type of tree that we become. This week I've been reading about noted civil rights activist and community development leader John Perkins. In reading his memoir, Let Justice Roll Down, I am drawn towards this idea that an exploration of where you came from can not only help determine where God might be leading you, but can also help illuminate the paths, often just as crooked and tangled as a series of roots, that God used to bring you where you are. For Perkins, getting back to his roots was crucial in both of these aspects. Perkins explains that even though he took the first chance he could to escape his upbringing in racist and impoverished rural Mississippi, it was his very experience growing up where and how he did that eventually led him back there as a witness to Christ among a group of people dealing with the same struggles he understood firsthand. God did not let Perkins uproot himself from the land God had prepared for him as the place where he would bear the most fruit.
The fruit of Perkins' life is evident by the various ministries, organizations, and movements this faithful servant has either started or been a part of. As I read through his memoir, the most powerful aspect of his life story is how he brings to light the necessity of his roots in providing soil rich enough to produce such abundant fruit. In telling his whole story, roots and all, he is trusting that God will use it to fan out and touch people who may not be moved by the testimony of his fruit alone. In revealing even the most painful memories and darkest moments, he is surrendering his past to be a tool for building and expanding God's kingdom.
In many ways, Mo's approach to sharing his life and ministry with others is akin to Perkins', which isn't surprising considering Mo has had the privilege of meeting and learning from Perkins himself. When I first sat down with Mo at the beginning of this summer, one of the first topics of conversation was Mo's past: his upbringing in the Deep South, his experiences with poverty and straddling the racial divide, his theological training, and the undeniable call to urban ministry that landed him in New Orleans for over fifteen years and then led him to Jacksonville where he started Rebirth. For Mo, and Perkins as well, his life story is a testimony to God's power, provision, and utter sovereignty. A deep awareness of their roots was essential for both men to understand and recognize the call God had for where they were to go next.
I see this rootedness at work in them in another way as well: both Perkins and Mo, upon hearing God's call, responded by planting themselves firmly in God's will for them and refusing to be swayed. Despite financial setbacks, despite threats to the safety of their families, despite times of loneliness and frustration, neither Perkins nor Mo have turned from their call to love and serve the poor and hurting.
There's a lot for me to learn from taking in these men's stories. For one, I think it calls for a deeper exploration of my own roots, asking God to reveal the way that he very intentionally laid out my past, twisted and knotted as it may seem at times, to bring me to a place where I am planted by living streams of water. I also see from their stories the seriousness with which I must approach the call to the rootedness these men both possess. A part of me wishes I already knew what that call was going to be, so I could get going on preparing the best plot of land for me to take root, ensuring the most abundant produce possible. I think, however, that my uncertainty as of yet is another manifestation of God's grace, teaching me yet again how to depend on him and rely on his timing, because realistically it is God who does the work of preparing the soil and leading me there. So until God reveals where his little plot for me on this earth is, I will "walk in [Christ], rooted and built up in him and established in the faith, just as [I was] taught, abounding in thanksgiving" (Colossians 2:7).
For updates about the PLT Summer Internship, click here. We also post updates online using #PLTinterns. To get these updates please like us on Facebook and follow us on Twitter at @LivedTheology. To sign up for the Lived Theology monthly newsletter, click here.