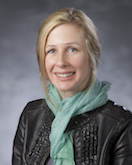 Virginia Seminar Project: Erecting the Pulpit: Muscular Christianity from Victoria to Viagra
Amy Laura Hall is an associate professor of Christian ethics at Duke Divinity school.
When asked to share a writing quirk with us she said:
I am a social bee in an introvert's job. I write best when in active conversation with genuine people who disagree with me or whose intellectual passions are contrary to my own. (The absolute worst is researching liars, because there is no point arguing with a real faker.) I do also need to alternate between focused, close reading and synthetic research. While thinking through variations on muscular Christianity, for example, I am also editing a book on Julian of Norwich.
Follow Amy Laura on Twitter @ProfligateGrace. Read her blog, here. Visit her author's page, here.