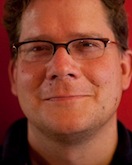 Virginia Seminar Project: Life's Too Short to Pretend You're Not Religious
David Dark is an assistant professor at Belmont University and the author of The Sacredness of Questioning Everything; Everyday Apocalypse: The Sacred Revealed in Radiohead, The Simpsons and Other Pop Culture Icons and The Gospel According To America: A Meditation on a God-blessed, Christ-haunted Idea, which was included in Publishers' Weekly's top religious books of 2005. He also contributed a chapter to the book Radiohead and Philosophy: Fitter Happier More Deductive (Chicago: Open Court, 2009). Following years of teaching high school English, Dark recently received a Ph.D. from Vanderbilt University. He also currently teaches at Riverbend Maximum Security Institution.
Some fun facts about David…
Q: What is your favorite book (or two or few)?
DD: Ursula K. Le Guin, Left Hand of Darkness; James Carse, Finite and Infinite Games; Lewis Hyde, The Gift; Wendell Berry, What Are People For?

Q: What is your favorite book to require for classes you teach?
DD: Philip K. Dick's The Three Stigmata of Palmer Eldritch

Q: What are some of your favorite classes to teach? Why?
DD: Religion and Science Fiction. They're the book ends of just about everything I can think of.

Q: Who are the authors you most admire?
DD: Will Campbell, Octavia Butler, Mary Ruefle, Czeslaw Milosz, Gregory Orr, Thomas Merton, Guy Davenport, Robert Bellah, Flannery O'Connor, Albert Camus, Eugene Peterson, Dorothee Soelle, W.E.B. Dubois, Thomas Pynchon, and Wendell Berry.

Q: Who are your teaching/writing influences?
DD: Doris Dark, Henri Nouwen, and Parker Palmer.

Q: Have any writing quirks?
DD: Writing a letter, an essay, a chapter, or a book serves well to assure me that all my notes and underlinings (or most of them) don't go completely to waste. I try to be a good steward of my obsessive compulsions.
A resident of Nashville, Tennessee, David attempts to raise children and live a life of mindfulness with singer/songwriter Sarah Masen. Follow David on Twitter @DavidDark and his tumblr page "Dark Matter" here.
To learn more about David, visit his author's page here.