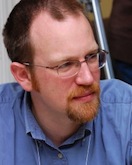 Virginia Seminar Project: Singing Church
Peter Slade currently researches justice, reconciliation and the practices of congregational singing: the ways that singing shapes–and is shaped by–the lived ecclesiologies of different congregations and communities. To read his blog, "Singing Church," click here.
Pete teaches courses in the History of Christianity and Christian Thought at Ashland University, Ohio. He received a doctorate degree in Religious Studies from the University of Virginia. Prior to studying at UVa, Slade earned an M.A. in Southern Studies from the University of Mississippi and a B.D. with Honours in Christian Ethics and Practical Theology from St. Andrews University, Scotland. He also studied community work at Ruskin College, Oxford.
Learn more about Pete by visiting his author's page.