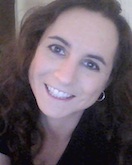 Virginia Seminar member Shannon Gayk, associate professor at Indiana University in Bloomington, has been appointed as a fellow at the National Humanities Center for 2014-2015.
As one of 41 fellows from 16 states, Canada, the People's Republic of China, Taiwan, and the United Kingdom, Shannon will work on an individual research project and will have the opportunity to share ideas in seminars, lectures, and conferences at the center. For more information on the fellowship, click here.
Learn more about Shannon by visiting her author's page here.