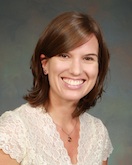 Central to Jennifer McBride's teaching and research is the interaction of scholars and practitioners, a methodology that will continue to be implemented in her Virginia Seminar project: Reducing Distance: Radical Discipleship through an Open Door. This project was inspired by her time as a writing fellow during the 2010/2011 academic year. She spent that year as a full time participant-observer at the Open Door Community, an intentionally interracial, residential Christian activist and worshipping community in Atlanta, Georgia, that has been engaged in mercy and justice work on behalf of the homeless and prison populations for thirty years. Please read Open Door Community's Newspaper Hospitality to find numerous contributions by Jenny that will be used in her forthcoming book based on this research.
Jenny's previous work, The Church for the World: A Theology of Public Witness, draws on the work of Dietrich Bonhoeffer. In April, David Gushee, professor of Christian Ethics and director of the Center for Theology and Public Life at Mercer University, offered a reflection "on becoming a church of confession rather than judgment." Gushee lauds Jenny's work, The Church for the World, as "essential reading." Gushee goes on to offer his thoughts on the church and Bonhoeffer, arguing for a humble, repentant church centering on humility, service, repentance, solidarity, and love. Read Gushee's full article here.  Read the Project's interview with Jenny here.
Jenny is the Board of Regents Chair of Ethics, assistant professor of religion, and Director of Peace and Justice Studies at Wartburg College, a college of the Evangelical Lutheran Church in America in Waverly, Iowa. Jenny serves on the board of directors of the International Bonhoeffer Society, English Language Section. She is also the co-editor of Bonhoeffer and King: Their Legacies and Import for Christian Social Thought.
To visit Jenny's PLT author page where you can find out more about her past and current projects, along with some fun facts, click here.