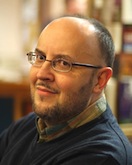 Alan Jacobs, Distinguished Professor of the Humanities at Baylor University and member of the first class of the Virginia Seminar in Lived Theology, has just published The Book of Common Prayer: A Biography. This new book is part of the Princeton University Press series, Lives of Great Religious Books and will be released on September 30.
The publisher introduces it this way:
While many of us are familiar with such famous words as, "Dearly beloved, we are gathered together here. . ." or "Ashes to ashes, dust to dust," we may not know that they originated with The Book of Common Prayer, which first appeared in 1549. Like the words of the King James Bible and Shakespeare, the language of this prayer book has saturated English culture and letters. Here Alan Jacobs tells its story.Jacobs shows how TheBook of Common Prayer–from its beginnings as a means of social and political control in the England of Henry VIII to its worldwide presence today–became a venerable work whose cadences express the heart of religious life for many.
Read more or purchase the book here.