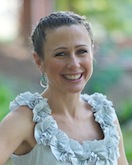 Amy Laura Hall, associate professor of Christian ethics at Duke Divinity school, begins her recent column for the Durham, NC Herald-Sun this way: "One of the most asinine things I have ever heard on the radio was from a sports news commentator, who said recently that it was ridiculous to think that an NFL football player could be 'bullied.'"
Hall goes on to comment on the recent bullying story concerning the Miami Dolphins, discussing the use of emasculation as a bullying technique. Read the full column here.
As a member of the Virginia Seminar in Lived Theology, Amy Laura Hall is researching and writing a book on masculinity entitled, Erecting the Pulpit: Muscular Christianity from Victoria to Viagra.