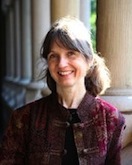 Susan R. Holman has published a new book entitled, Beholden: Religion, Global Health, and Human Rights.
From the publisher: Beholden "offers a new and original lens for the role of religion in global health, complements global health education efforts and touches on relevant cross-disciplinary issues that are missing in most teaching materials for introductory courses on global health, [and] discusses the anthropology of gift exchange in the context of religious aid and social welfare."
With a new perspective that integrates religion and culture with human rights and social justice, Holman shows interested practitioners and students how to improve and magnify the impact of global health initiatives.
Susan R. Holman is Senior Writer at the Global Health Education and Learning Incubator at Harvard University and a past participant in the Project's Virginia Seminar. She has worked as a research writer at Harvard University's François-Xavier Bagnoud Center for Health and Human Rights at Harvard School of Public Health, as managing editor for Health and Human Rights: An International Journal (for which Dr. Paul Farmer is Editor-in-Chief), and as an independent scholar and consultant in poverty studies in religious history as well as in health and human rights as it relates to international poverty, religion and nutrition.
In her photo essay on the Oxford University Press blog, Susan reflects, "Sometimes the most enduring image of how religion affects health is not what you see, but what you don't."
To read more of her blog post and see the photos, click here. To visit her PLT author page, click here. To learn more about Beholden, including how to purchase it at a discount, view the book's flyer from OUP here.