Politics and Prose Event Will Be Moderated by Former U.S. Poet Laureate Natasha Trethewey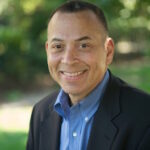 Award-winning author and Mississippi native W. Ralph Eubanks will talk about his new book, A Place Like Mississippi: A Journey Through a Real and Imagined Literary Landscape, at two upcoming live virtual events:
Square Books, Tuesday, March 16 at 6:00 p.m. EST (5:00 p.m. CST). An RSVP is required; register here.
Politics and Prose Bookstore, Wednesday, March 17 at 8:00 p.m. EST. Former U.S poet laureate Natasha Trethewey will moderate. An RSVP is required; register here.
A longtime friend of the Project on Lived Theology, Eubanks contributed a chapter on gospel singer Mahalia Jackson to the PLT book Can I Get a Witness? Thirteen Peacemakers, Community Builders, and Agitators for Faith and Justice (Eerdman's, 2019). Eubanks' Can I Get a Witness podcast episode about Jackson can be heard here.
In his new book A Place Like Mississippi, Eubanks treats us to a literary tour of the evocative landscapes that have inspired writers in every era. From Faulkner to Wright, Welty to Trethewey, Mississippi has been both a backdrop and a central character in some of the most compelling prose and poetry of modern literature. The journey unfolds on a winding path, touching the muddy Delta, the rolling Hill Country, down to the Gulf Coast, and all points between. In every corner of the state lie the settings that informed hundreds of iconic works. Immersing us in these spaces, Eubanks helps us understand that Mississippi is not only a state but a state of mind. Or as Faulkner is said to have observed, "To understand the world, you must first understand a place like Mississippi."
"Ralph Eubanks' A Place Like Mississippi is the book all of us Mississippi writers, dead and alive, need to read," said Kiese Laymon, author of Heavy: An American Memoir. "It is indeed a strange but glorious sensation to see your literary and geographic lineage so beautifully and rigorously explored and valued as it's still being created."
Eubanks currently serves as Visiting Professor of Southern Studies, English, and Honors at the University of Mississippi. He is the author of The House at the End of the Road: The Story of Three Generations of an Interracial Family in the American South and Ever Is a Long Time: A Journey into Mississippi's Dark Past, which Washington Post book critic Jonathan Yardley named as one of the best nonfiction books of the year. Eubanks has contributed articles to the Washington Post, the Wall Street Journal, WIRED, the New Yorker, and NPR. He is a recipient of a 2007 Guggenheim Fellowship and has been a fellow at the New America Foundation. He is the former editor of the Virginia Quarterly Review at the University of Virginia and served as director of publishing at the Library of Congress from 1995 to 2013.
The Project on Lived Theology at the University of Virginia is a research initiative, whose mission is to study the social consequences of theological ideas for the sake of a more just and compassionate world.