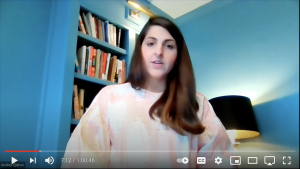 "A prophet in overalls, although an unlikely one" and "something of a contrarian" is how Ansley L. Quiros, a history professor at the University of North Alabama, described activist and Koinonia Farm co-founder Clarence Jordan during a Zoom presentation on March 25 with University of Virginia students. Video and audio of Quiros' talk, "God with Us: Lived Theology and the Freedom Struggle in Americus, Georgia," are now available on the Project on Lived Theology's website.
During her talk, Quiros explored various aspects of Jordan's early life, including his Southern Baptist upbringing, his agricultural and seminary training, and his work as a New Testament Greek translation scholar.
According to Quiros, Jordan began to question white supremacy and to advocate for racial justice while at seminary, which led him to clash with segregationist students and faculty. In 1942, he co-founded (with his wife Florence) Koinonia Farm, an agricultural Christian community in the small town of Americus, Georgia.
Quiros described how Jordan's vision of the Kingdom of God, or what he called "the God movement," forced confrontations in Americus. By interacting with the town's Black rural residents and practicing theologically based integration, Koinonia Farm community members challenged the theological rationalizations held by many white Protestants about maintaining segregation.
"Twenty years before the Civil Rights Movement had arrived in Americus, Koinonia Farm had engaged in the same theological freedom struggle," said Quiros. "And that's another significant effect of Koinonia's presence in Suffolk County, the undeniable theological challenge it presented to Americus' sanctioned racism. In a familiar voice, its members spoke slowly, gently to white Christians of love, peace, of Christianity's racial demands…Koinonia Farm was a voice crying in the wilderness that offered Americus and the American South a foretaste of what was to follow: a bitter theological struggle over race and religion."
Quiros' talk was part of "The Kingdom of God in America," a UVA undergraduate seminar taught by Charles Marsh, director of the Project on Lived Theology and a professor of religious studies at UVA.
A history professor at the University of North Alabama, Quiros specializes in twentieth-century U.S. history, with a focus on race, politics, and religion. She is also contributing a chapter on Florence Jordan to the upcoming PLT book People Get Ready! Thirteen Jesus-Haunted Misfits, Malcontents and Dreamers for Troubled Times.
The Project on Lived Theology at the University of Virginia is a research initiative, whose mission is to study the social consequences of theological ideas for the sake of a more just and compassionate world.