by Lilly West, 2023 Undergraduate Summer Research Fellow in Lived Theology
"Father bless this membership to follow and do those things that encourage people to love one another as You loved us…Thank you for what you are going to do; thank you Father for being a wall of fire and protection around this new congregation, the families, the children, and those involved in the development of this local body of Christ.
Then, Lord, disturb Good Shepherd when they become too pleased with themselves; disturb them:
when their dreams have come true and when they dream too little;
when they arrive safely and when they have lost our thirst for the waters of life;
when they have fallen in love with life and have ceased to dream of eternity;
when they allow their vision of the new Heaven to become dim.
Then after you disturb them, let Your Word and their lights shine in such a way that they lift up Your Son so He can draw men, women, boys, and girls to You Father."
You have just read an excerpt from Reverend Alvin Edwards' launch day blessing and prayer over Charlottesville's nascent Anglican church plant Church of the Good Shepherd, one of many blessings he has prayed over the 105 Ridge Street worship space. Except, Dr. Edwards does not pastor the congregation of Good Shepherd. He has served as pastor of Mt. Zion First African Baptist Church since July 1, 1981.
Mt. Zion traces its history back to 1863, when, in the wake of the Emancipation Proclamation, Black congregants of Charlottesville Baptist Church successfully petitioned for their own worship space and purchased the Delevan Hotel on Main Street[1]. Virginian law[2] (1832) mandated the presence of a White minister in Black worship spaces, so the new Black church body of Delevan Baptist Church was shepherded by local White ministers. Some members, dissatisfied with this condition, branched away from the original church body in 1867 under the leadership of "horseback preacher" Reverend Spottswood Jones, recorded as the first Black pastor in Charlottesville[3]. This community became the Mt. Zion First African Baptist Church.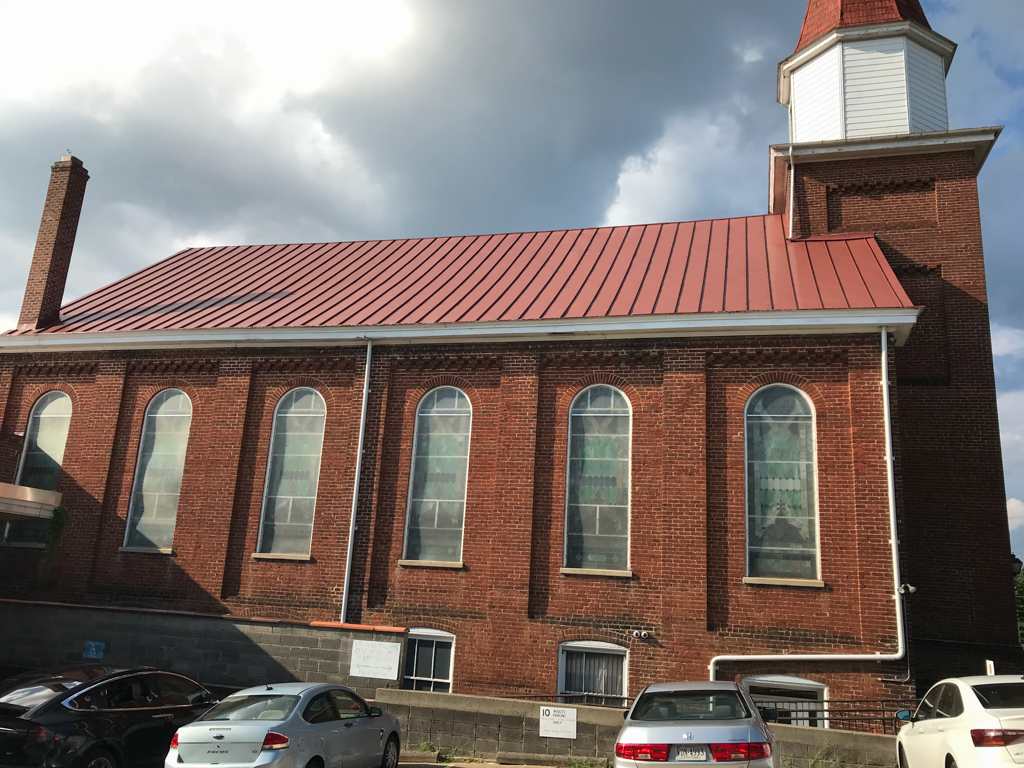 The Black church body met "from house to house" until Samuel White, noted as a "consecrated Christian man," volunteered his home as a permanent meeting place, which was centrally located between the city's principle Black neighborhoods[4]. The frame of his home at 105 Ridge Street served as the worship space until 1883, when the Mt. Zion congregation celebrated the laying of the cornerstone of the present structure on the lot.
The church, surviving a crisis of great debt in the early 20th century[5], grew and developed many modes of social outreach and leadership, including a Deaconess Board, Young Men's Usher Board, Social Club, and the designation of the first Sunday of each month as "Young People's Day."
In 1967, Mt. Zion undertook the work of recording the history of their lived experience. An existing copy of their publication "Mt. Zion Baptist Church: A Century of Christian Service" can be found at The Albemarle Charlottesville Historical Society. At the time of its publication, Mt. Zion's pastor was Reverend James Hamilton. He would go on to serve from 1960 to 1980, followed by Mt. Zion's current pastor Reverend Alvin Edwards[6].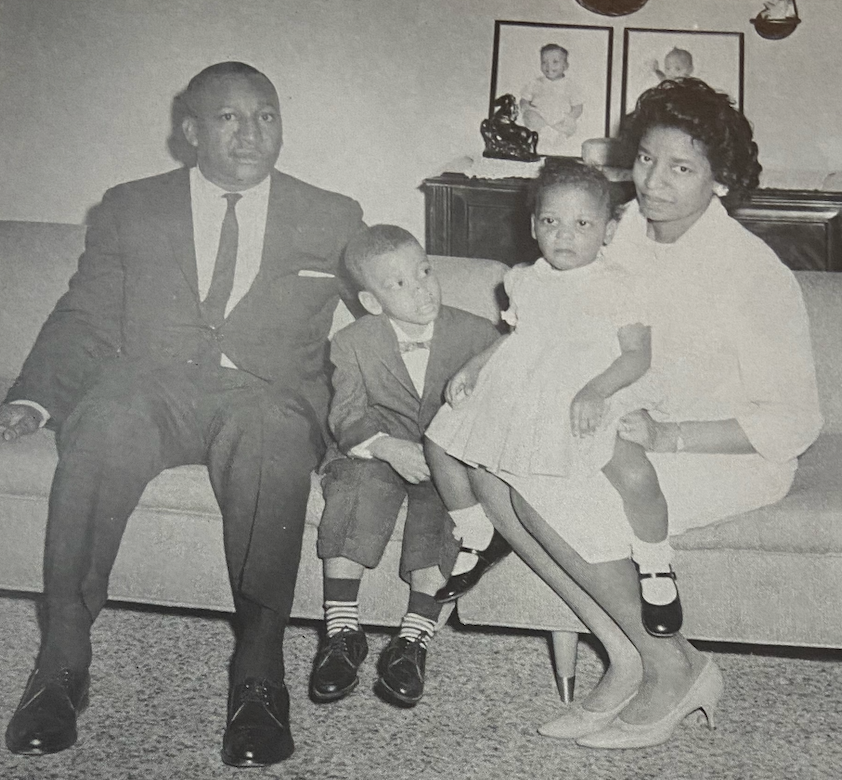 Reverend Hamilton's pastorate covers "an exciting period in human history" in which "confusion seems to be the order of [the day]," as he writes in his letter to the congregation. In the American landscape of the Civil Rights Movement, his congregation worked to "denounce the path taken by [their] culture" according to his guidance to "work and pray within it … to be instrumental in changing it." However, a different national project would require much of Mt. Zion's prayers and strength.
Throughout the 1950s and 1960s, the federal government funded American cities to raze "blighted areas" for the goal of improving the utilization of the land. In Charlottesville, as in most participating urban areas, this resulted in the destruction of minority neighborhoods and displacement of their communities away from the center of public life. Charlottesville's Vinegar Hill neighborhood, located directly across Main Street from Mt. Zion's historic Ridge Street building, was razed as a result of a city-wide vote subject to exclusive poll tax in 1965[7]. Mt. Zion's publication in 1967, in the wake of this loss of community, notes the "new dimensions … of Christian education and social outreach" which the congregation adapted to undertake.
From this point on in Mt. Zion's story, there is a shift in attitude. While unconfirmed, it seems as though this church body, which had recorded as its chief history the major renovations and additions to its worship space at 105 Ridge Street, began to search for a more appropriately located space for worship. To this end, Reverend Edwards worked to place 105 Ridge Street on the Virginia Landmark Register (1991) and the National Register of Historic Places (1992). In 2003, the congregation marched from their historic building to their new worship space at 105 Lankford Avenue. Their Ridge Street edifice, protected from destructive "progress" by its designation as a landmark, was sold to the Music Resource Center (MRC) of Charlottesville, with the helpful purchasing power of the Dave Matthews Band. Mt. Zion's current history identifies the motivation for this new worship space as congregational growth and the need for a larger building, a new "magnificent edifice." This certainly aligns with the growth of social outreach initiatives under Reverend Hamilton and Reverend Edwards's leadership. However, a research project collecting the oral histories of Charlottesville's Vinegar Hill neighborhood claims that the church relocated out of necessity as a result of the neighborhood's destruction[8]. A small note in Mt. Zion's current recorded history claims that Dr. Edwards fulfilled Reverend Hamilton's goal of building a new church.
So, where do we stand? The Lord has blessed the Mt. Zion community with resilience in the face of oppression, debt, and relocation. In fact, Mt. Zion's witness has resulted in an expansion of their church body requiring a larger building and greater direction of many community-driven programs. Their historic building, where "ancestral voices echo" and the "deep histories and textures"[9] of a faithful, resilient community lie hidden from public view, is owned by a community outreach music center. The MRC's programs provide after school direction and education in creative arts for local city children. And now, after 20 years of silent Sunday's, the MRC has leased the space to a new tenant.
Joining the voices of spiritual parents in the faith, whose liberating efforts have re-introduced the modern American church to the "true witness of Christian life [as] the projection of a social gospel," a small, young, predominantly White Anglican church plant inhabits 105 Ridge Street. Pastors Robert Cunningham and April Murrie seek to join Mt. Zion's gospel witness through truth-telling, listening, and acting alongside neighbors for the "flourishing of [their] community."[10]
Mt. Zion and Good Shepherd stand at a crossroads ripe for participation in beloved community. In a tragic age where "men know so little of men"[11] and the city of Charlottesville and others like it remain functionally segregated, these two churches exist as a family of faith, whose Christian responsibility is to realize the colony of heaven. How does this happen? John Perkins, minister, civil rights activist, and community builder argues that beloved community has everything to do with place[12]. There is something to be realized about the interaction of physical space and community, of knowing and loving, of history sharing and future building, that feeds and nurtures beloved community. Thus, there lies an invitation to a new "alignment," a new revelation of "collective body in Jesus."[13]Certainly, this project must begin with truth telling, the effortful retaining of "constructive tension"[14], a harmony with undercurrents and histories of disharmony. Out of this tension grows compelling Christian witness, which, "depends on our ability to sing better songs with our lives. … in which our life harmonizes with others even the lives of those least like us and swells into a joyful and irresistible chorus"[15] of which "the minor cadences of despair change often to triumph and calm confidence."[16] It will be through these songs that we, as Reverend Edwards prayed, prevent the vision of the new heaven from becoming dim.
---
[1]Local expert on Race and Place in Charlottesville, Louis Nelson, points to the prominent position of this location. Placing themselves along the "major public thoroughfare" of the city claims space for Black voices in social and religious communities.
[2] "an act reducing into one the several acts concerning slaves, free negroes and mulattoes, and for other purposes" (March 15, 1832)
[3] "Mt. Zion Baptist Church: A Century of Christian Service", Charlottesville Albemarle Historical Society
[4] "Mt. Zion Baptist Church: A Century of Christian Service", Charlottesville Albemarle Historical Society
[5] "Mt. Zion Baptist Church: A Century of Christian Service"; A 1967 written record of Mt. Zion's first 100 years notes that Reverend Royal Brown Hardy was instrumental in support raising and stewardship of resources to rescue the church.
[6] Warren Dawkins served as Interim Pastor between 1980 and 1981.
[7] The Westhaven public housing development, which housed many previous Vinegar Hill residents, is located on Hardy Drive. This street is named for Mt. Zion's Reverend Hardy.
[8]Saunders, James Robert; Renae Nadine Shackelford. Urban Renewal and the End of Black Culture in Charlottesville, Virginia . McFarland & Company, Inc., Publishers.
[9] Willie James Jennings, Lived Theology "Disfigurations of Christian Identity" (74)
[10] The Church of the Good Shepherd; https://www.goodshepherdcville.org/about/location
[11] W.E.B. Dubois, The Souls of Black Folk (192)
[12] John Perkins, Welcoming Justice, "A Time for Rebuilding"
[13] Willie James Jennings, Lived Theology, "Disfigurations of Christian Identity" (74)
[14] Martin Luther King, Jr., Why We Can't Wait (90)
[15] Charles Marsh, Welcoming Justice, "The Power of True Conversion" (78)
[16]  W.E.B. Dubois, The Souls of Black Folk (222) 
Learn more about the Lilly's Undergraduate Summer Research Fellowship in Lived Theology here.
The Project on Lived Theology at the University of Virginia is a research initiative, whose mission is to study the social consequences of theological ideas for the sake of a more just and compassionate world.