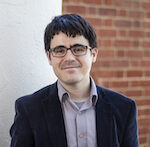 Isaac Barnes May, a research fellow at the Project on Lived Theology, will publish a monograph, American Quakers and Resistance to War from World War I Through Vietnam, for the Brill Research Perspectives series.
"In the popular imagination, Quakers are perhaps best known for their opposition to war," said May. "There has consequently been a robust body of scholarship on the topic of American Quakers and their interpretation of Quakerism's peace testimony. However, much of this scholarship has focused on the colonial period and the nineteenth century; considerably less historical work has been dedicated to Quakers in relation to twentieth-century conflicts."
As a result of this hole in scholarship, May's volume will be a historical survey of Quakers in the United States and their responses to war from World War I to Vietnam, covering social, political, legal, and theological aspects of Quaker pacifism. May will specifically document how Quakers squared conscientious objection with notions of patriotism and American citizenship.
"I expect readers will come away with an understanding that Quaker resistance to war is not only a part of remote history but also was an issue that had to constantly be navigated by Quakers in the course of the twentieth century," said May. "My account will show that Quakers constantly had to compromise and negotiate with federal authorities and allay a hostile public. I hope that this will be a useful resource that fills a gap in twentieth-century historical scholarship on Quakerism."
According to May, although his work will be of primary interest to scholars, he would also like for the volume's prose and style to be accessible to undergraduate students as well as to Quakers with an interest in their denomination's history.
Isaac Barnes May is Assistant Professor of American Studies at the University of Virginia. He completed a PhD in Religious Studies at UVA and is a graduate of Earlham College and Harvard Divinity School. May specializes in American religious history, focusing on religion and modernity, liberal religion, and the religious left. He is particularly interested in the study of pacifism, religion and law, and how religious groups respond to the pressures of secularization. His dissertation focuses on changing notions of God and the emergence of nontheistic perspectives within twentieth-century Unitarianism, Quakerism, and Reconstructionist Judaism. May was a contributor to The Cambridge Companion to Quakerism, and his research has been published in journals including Peace & Change and Religions.
Brill, a scholarly publishing house, launched the series Brill Research Perspectives (BRP) in 2017. BRP reference books combine the verification of peer review, the high usage of reference works, and the pedagogy of textbooks. Designed for research communities in the humanities, international law, and social sciences, the BRP book series aims to distill the vast body of literature in a field into a more digestible format while still using primary sources.
The Project on Lived Theology at the University of Virginia is a research initiative, whose mission is to study the social consequences of theological ideas for the sake of a more just and compassionate world.