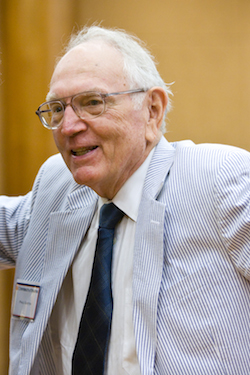 On Wednesday, September 24, Paul M. Gaston, Emeritus Professor of History at the University of Virginia, will lead a seminar on the Civil Rights Movement in Charlottesville, Virginia. The seminar will begin at 3:30 pm in the University of Virginia's Jefferson Hall (West Range Hotel C). The public is invited and admission is free.
Paul Gaston was born in Fairhope, Alabama. He graduated with a B.A. from Swarthmore College in 1952, was awarded a diploma from the Danish Graduate School for Foreign Students in 1953, and graduated from UNC with an M.A. and Ph.D. in 1961. Dr. Gaston has lived in Charlottesville since 1957, when he arrived as a junior instructor of history at the University of Virginia. He has received many awards and honors, including the Arabella Carter Award for Community Service and the Legendary Civil Rights Activist Award from the Charlottesville-Albemarle branch of the NAACP. Dr. Gaston has published many books and essays, including his acclaimed memoir, Coming of Age in Utopia: The Odyssey of an Idea.
Paul Gaston is well known in the Charlottesville community for his civil rights activism in the 1960s. Raised in Fairhope Colony, an idealistic community founded by his grandfather on the principles of justice and equality, Dr. Gaston learned at an early age of the racial prejudice and economic disparity that divided America. After moving to Charlottesville, Dr. Gaston became deeply involved in the Civil Rights Movement and participated in many rallies and protests, including the 1963 sit-ins at Buddy's Restaurant, which ultimately played a critical role in spurring desegregation of the region.
In an interview with the University of Virginia Magazine, Dr. Gaston stated, "The early 1950s was a time when it was clear… that great changes were coming to the South, and I wanted to take part in it."
Learn more about Paul Gaston and his experiences of growing up in Fairhope Colony, teaching at the University of Virginia, and living in Charlottesville during the Civil Rights Movement, at U.Va. Magazine here.