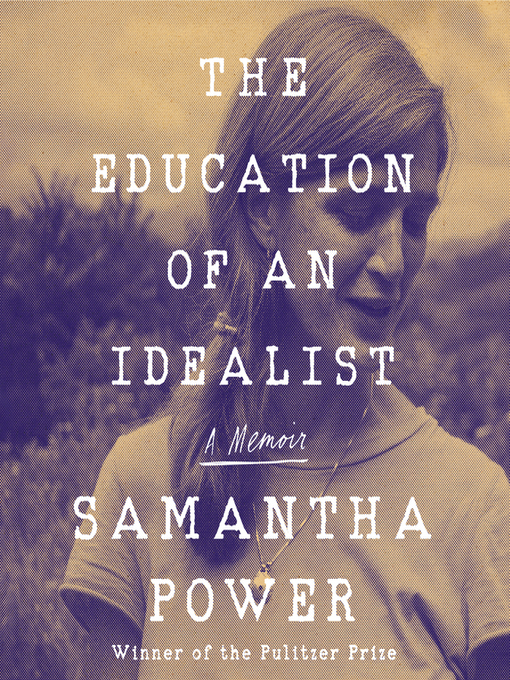 Ethics, Motherhood, and Geopolitics
A Pulitzer Prize winner and human rights activist, Samantha Power's The Education of an Idealist: A Memoir is a deeply personal account of her incredible life. Committed to the cause of interventionism, Power's career as a member of the United Nations and on the Obama Administration has been met with a number of highs and lows, which she recalls with unflinching candor in The Education of an Idealist. From her immigration from Ireland to the United States, to her early activism, to stepping onto the global policy stage, to raising two children, Power offers meditations on ethics through the lens of a myriad of diverse experiences. Throughout her vibrant life, Power continues to emphasize her focus on human dignity and global interconnectedness and concern. She describes in The Education of an Idealist how she juggles everything at once- and confesses her shortcomings in the path of leadership with goodness in mind.
Samantha Power is a Pulitzer Prize winning journalist, government official, and diplomat. She previously served as the youngest ever U.S. Ambassador to the United Nations, as well as the chair of the Atrocities Prevention Board under President Obama. She currently serves as the Administrator of the United States Agency for International Development under President Biden. Further, she was the Founding Executive Director of the Carr Center for Human Rights Policy at Harvard University. She is known also for her book A Problem from Hell: America and the Age of Genocide, which explores the United States' relationship to genocide across the world.
Reviews and endorsements of the publication include:
"Problem solving in a complex world can challenge idealism. Samantha Power's compelling memoir provides critically important insights we should all understand as we face some of the most vexing issues of our time."
– Bryan Stevenson, Founder of the Equal Justice Initiative and author of Just Mercy
"Power writes with heart about her upbringing — in Ireland, Pittsburgh and Atlanta — and she is especially poignant when recounting a few traumatic episodes… Still, the book is suffused with humor, and [President Obama] furnishes the funniest anecdotes that don't come from her charming children…The Education of an Idealist is a moving account of how to serve righteously, or at least how to try."
-The Washington Post
"In this gripping and revelatory memoir, Power chronicles, with vibrant precision and stunning candor, her best and worst moments navigating the obstacle courses within the White House and the UN, daunting global crises, and personal struggles. She is utterly compelling in her eye-witness accounts of violence and political standoffs and shrewdly witty in her tales about balancing diplomacy and motherhood.
-Booklist
For more information on the publication, click here.
For more of "On the Lived Theology Reading List," click here. To engage in the conversation on Facebook and Twitter, @LivedTheology, please use #LivedTheologyReads. To sign up for the Lived Theology newsletter, click here.