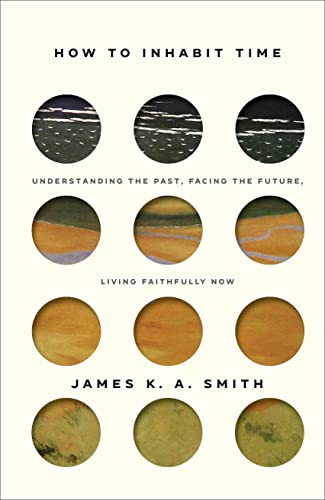 Appreciating Then and Now
Taken from a theologically driven and culturally minded perspective, James K. A. Smith's How to Inhabit Time: Understanding the Past, Facing the Future, Living Faithfully Now combats one of the most pressing issues in Christian life today: the tendency to see the current generation, as Smith says, as a 'clean slate.' In How to Inhabit Time, Smith explores the theological importance of time and history, and makes a case for temporally contextualized living. Discussing both Biblical and cultural history in this volume, as well as delving into his own experience of reckoning with the reality of time's movement, Smith argues that time is a gift to be savored and that its passage is ripe for deep reflection. Both philosophically deep and playfully light, How to Inhabit Time serves as a vital resource for Christians seeking to make sense of the past, present, and future.
James K.A. Smith is currently a professor of Philosophy at Calvin University in Grand Rapids, Michigan. He has also taught at Loyola Marymount University, Fuller Seminary, Reformed Theological Seminary, and Regent College. He is the author of many books, including You Are What You Love: The Spiritual Power of Habit and On the Road with Saint Augustine: A Real-World Spirituality for Restless Hearts. His research interests include the intersection of church communities and culture and the impacts of postmodernism and the Enlightenment on the church.
Reviews and endorsements of the publication include:
"In this arresting and elegant book, Jamie Smith gives us a profound and beguiling meditation on time (and therefore death), on embodiment (and therefore love), on creaturehood (and therefore our orientation toward God). Philosophically rigorous and creatively daring, this original and provocative exploration summons each of us to diligent thinking and unflinching honesty, to (in Smith's own phrase) 'shared vulnerability' and deep prayer."
-Charles Marsh, PLT Director
"James K. A. Smith shows us that time is a gift waiting to be redeemed, and a central conviction of this book is that 'the Lord of the star fields' is intimately attuned to our haunted, beautiful histories. Dwelling with these lucid, winsome meditations on 'spiritual timekeeping' was like listening in on a lively conversation between St. Augustine, Gustavo Gutiérrez, James Baldwin, and Marilynne Robinson, while Pink Floyd's Dark Side of the Moon played in the background."
-Fred Bahnson, author of Soil and Sacrament
"James K. A. Smith's inspired work examines time not as hourglass sand running hopelessly through our fingers but as a divine gift that we can capture just enough to recognize the pearl of life that time shapes. A thoughtful and engaging book."
-Sophfronia Scott, author of The Seeker and the Monk: Everyday Conversations with Thomas Merton
For more information on the publication, click here.
For more of "On the Lived Theology Reading List," click here. To engage in the conversation on Facebook and Twitter, @LivedTheology, please use #LivedTheologyReads. To sign up for the Lived Theology newsletter, click here.