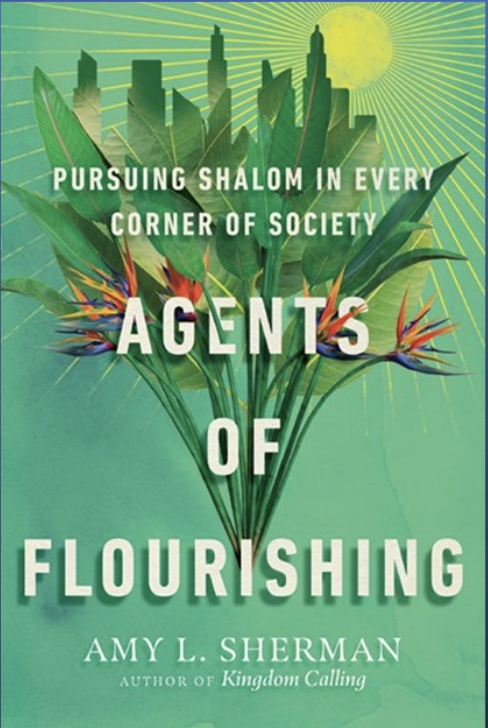 Engaging Powerfully
In Amy Sherman's timely work Agents of Flourishing: Pursuing Shalom in Every Corner of Society, she highlights the importance of meaningful civic and cultural engagement as directed by the Bible. The ultimate state of Shalom to be pursued (otherwise known as Biblical flourishing), according to Sherman, appears in six parts of civic life: the good, beautiful, true, just, prosperous, and sustainable.
Using examples of faith communities that have answered the call to Shalom, as well as including Biblical grounding for her interpretation of flourishing, Sherman offers a guide for communities seeking to live out God's intentions for engaged and purposeful citizenship. As the author of other books on thoughtful faith engagement, including Kingdom Calling: Vocational Stewardship for the Common Good and Restorers of Hope: Reaching the Poor in Your Community with Church-Based Ministries that Work, and as a person deeply committed to community outreach in the city of Charlottesville, Sherman employs her skills and experience beautifully in Agents of Flourishing.

Reviews and endorsements of the publication include:
"When history looks back on the church in America at the start of the twenty-first century, it won't be a pretty sight. Division, scandals, unbelief, materialism, individualism, theological drift . . . the list goes on and on. We've simply lost our way. Fortunately, this latest work by Dr. Amy Sherman provides a road map to help us get back on track. Amy rightly focuses our attention on the central message of Jesus―the good news of the kingdom of God (Luke 4:43)―and provides readers with helpful prompts to improvise this story in their cities and neighborhoods. Miraculously, we are to do this―not by exercising worldly power but from a posture of humility, grace, and sacrificial love. This is the way of King Jesus, and it needs to be the way of the church once again."
– Brian Fikkert, president and founder of the Chalmers Center
"In an age of political division and a shrinking Western church, Amy Sherman gives pastors, scholars, and students a comprehensive vision for equipping the saints to work toward the healing of our cities. Sherman bridges the gap from Scripture to praxis and gives readers both theological frameworks and practical examples of how our work and churches once again show our culture what the gospel looks like in the ordinary, everyday movements in our lives. I highly recommend Agents of Flourishing for anyone longing to see a reintegration of faith and work, private and public, church and city."
– Jeff Haanen, founder and CEO of the Denver Institute for Faith & Work
"Agents of Flourishing is a timely book loaded with expert guidance and amazingly practical insights for local churches (agents of God's inbreaking kingdom) seeking the flourishing of their communities. It presents captivating examples of local churches' engagement with six community endowments―the good (ethics), the true (knowledge), the beautiful (creativity), the just and well-ordered (political), the prosperous (economic), and the sustainable (natural environment)―as congregants carry out their priestly work of restoring shalom: rightness of relationships with God, self, others, and creation."
– JoAnn Flett, executive director of the Center for Faithful Business at Seattle Pacific University
For more information on the publication, click here.
For more of "On the Lived Theology Reading List," click here. To engage in the conversation on Facebook and Twitter, @LivedTheology, please use #LivedTheologyReads. To sign up for the Lived Theology newsletter, click here.