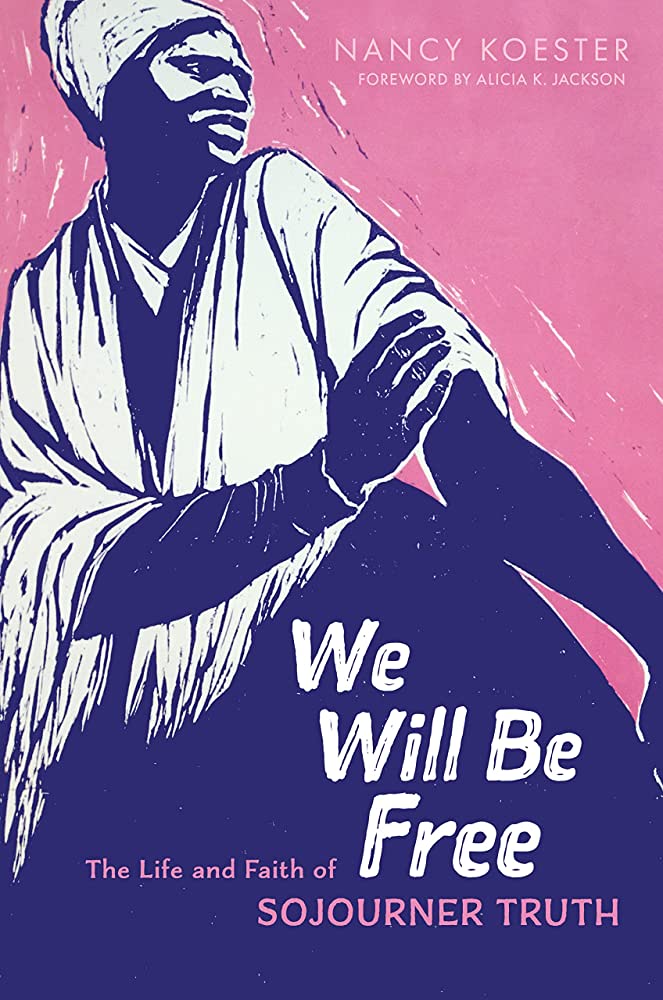 An Intimate Account of the Life of One of History's Most Powerful Women
In Nancy Koester's We Will Be Free: The Life and Faith of Sojourner Truth, Koester crafts a stunningly detailed portrait of the life and faith of Isabella Baumfree, who would later become legendary abolitionist and women's rights activist Sojourner Truth. By traveling herself to notable place's throughout Sojourner Truth's life, Koester is able in We Will Be Free to bring together an array of dictated letters, eyewitness accounts, speeches, and sermons to paint a clearer picture of this human rights maverick. Koester's book recalls in vivid detail Truth's activism through the Antebellum period, Civil War, and Reconstruction, describing her interactions with U.S. presidents, notable activists, and enslaved people. Koester also makes a point to describe the evolution of Truth's personal perspective and motivations for justice: from being enslaved from the age of nine, to her urgent mission to rescue her own five year old son from slavery, to her call from God to begin preaching the Gospel in her forties. Having overcome a number of unimaginable challenges, Truth built resilience throughout the course of her life that Koester captures with eloquence in We Will Be Free. Weaving throughout the entire story, Koester describes Sojourner's faith and joy in the promise of heavenly salvation, which lives in the heart of her activism.
Nancy Koester is the author of several books, including the award-winning Harriet Beecher Stowe: A Spiritual Life. She is an ordained Lutheran preacher and has taught at both the college and seminary level. Her research interests include 19th century American history and particularly the untold stories of women who shaped the period.
Reviews and endorsements of the publication include:
"In We Will Be Free, Nancy Koester helps us move beyond the superficial knowledge we have of Sojourner Truth and takes us into the spirit of a woman whose life should inspire and inform us all. This is more than the biography of a single, remarkable woman, it tells the story of the whole nation—halting steps toward freedom, the risk and rewards of speaking the truth and, most of all, the unflagging hope that change is possible."
– Dr. Jemar Tisby, New York Times bestselling author of The Color of Compromise and How to Fight Racism
"Nancy Koester's We Will Be Free: The Life and Faith of Sojourner Truth uses Sojourner Truth's words, along with firsthand accounts from the people around her, to narrate the icon's journey from enslavement to the national stage amid racial violence and extreme poverty. The result is a biography animated by the activist's wit, ideas, and affect. Adding to the corpus of knowledge about nineteenth-century freedwomen's lives, Koester's book amplifies Truth's extraordinary contribution to our nation's history."
– Dr. Alexis Wells-Oghoghomeh, Stanford University
"This biography of Sojourner Truth carefully and thoroughly documents her astonishing life, paying particular attention to the varying religious contexts that shaped her. From her early years of enslavement to her years fighting for abolition and the rights of women and freedpeople, Truth bravely crossed swords with the powers that be and occasionally with her own allies. Koester writes in a style that will appeal to broad audiences and incorporates the best historical scholarship and research. Sojourner Truth's life receives a graceful and illuminating treatment here."
– Dr. Paul Harvey, University of Colorado
For more information on the publication, click here.
For more of "On the Lived Theology Reading List," click here. To engage in the conversation on Facebook and Twitter, @LivedTheology, please use #LivedTheologyReads. To sign up for the Lived Theology newsletter, click here.