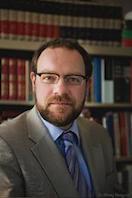 Please join us for a salon evening with Dr. Paul Jones at the Bonhoeffer House, Thursday, November 6th at 7:30pm.

Paul Dafydd Jones is an associate professor of religious studies at U.Va. and co-director of the Virginia Center for the Study of Religion. He is currently working on a book in constructive theology focused on patience — divine patience and human patience, but also divine impatience and human impatience. It explores creation and providence, the incarnation, atonement, the nature of sanctification, and, last but not least, the intersection between Christian thought and political activity. It draws on a wide range of figures and intellectual movements including Karl Barth, John Calvin, Martin Luther, and Hans Frei and is an attempt to show how "classical" theology and liberation theology can be integrated.
Free parking is available at the Culbreth Road Parking Garage. Light refreshments will be provided. As always, friends welcome and encouraged. The event is co-sponsored by The Project on Lived Theology and Theological Horizons.
Find the Facebook event here.