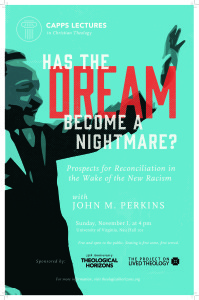 What does it look like to live a life of racial reconciliation? In an age of police brutality, mass incarceration, and even conflict on Grounds, we are searching for a means of healing. This Sunday as John M. Perkins reflects on the topic "Has the Dream Become a Nightmare? Prospects for Reconciliation in the Wake of the New Racism." Perkins brings his life experience to explore the idea of New Racism and to consider how people of faith might respond.
The lecture is this Sunday, November 1st, at 4pm in Nau Hall 101, and is co-sponsored by U.Va.'s Project on Lived Theology and Theological Horizons. The event is free and open to the public. Seating is first-come, first-served, and space is limited.
The lecture will be video recorded and posted under PLT Resources and on the new Theological Horizons website.
There will be a reception following the lecture. All are welcome.
Dr. John M. Perkins was born and raised in poverty as a sharecropper's son in Mississippi. He fled to California after witnessing the death of his brother at the hands of a town Marshall. Though he'd vowed never to return, Perkins went back to Mississippi in 1960 to share the Gospel and work for equality, justice and economic development. His outspoken leadership on civil rights brought harassment, imprisonment and beatings.
Today, John M. Perkins is internationally known on issues of racial reconciliation, leadership and community development. Dr. Perkins and his wife, Mrs. Vera Mae Perkins, founded Voice of Calvary Ministries and the Christian Community Development Association.
Perkins's books include Welcoming Justice: God's Movement Toward Beloved Community, co-authored with UVa professor and PLT Director Charles Marsh, A Quiet Revolution, and Let Justice Roll Down.
Theological Horizons supports both Christians and seekers by advancing theological scholarship and by providing a welcoming home for engaging faith, thought and life.
For more PLT event details and up-to-date event listings please click here to visit the events page. We also post updates online using #PLTevents. To get these updates, please like us on Facebook and follow us on Twitter @LivedTheology.