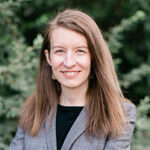 Kim Curtis, communications and event coordinator at the Project on Lived Theology, has been appointed to the State Historical Records Advisory Board by Virginia governor Ralph Northam. She will serve a three-year term.
The State Historical Records Advisory Board (SHRAB) serves as the central advisory body for historical records planning and related projects developed and carried out by the state of Virginia. The board publishes and sponsors surveys of conditions and needs of historical records; reviews records and proposals by institutions; and makes recommendations to the National Historical Publications and Records Commission, which is affiliated with the National Archives and Records Administration.
Prior to coming to the Project on Lived Theology, Kim Curtis co-edited the print and digital editions of the Martha Washington Papers Project. She worked closely with both U.S. and international archives and libraries to locate correspondence written by and to Martha Washington as well as other significant documents pertaining to her life. As a graduate student, Curtis interned in the film archive department of the Museum of Modern Art in New York City.
"I am deeply honored to have been appointed to SHRAB," said Curtis. "I look forward to working with my fellow board members, to serving the Commonwealth, and to representing the Project on Lived Theology and the University of Virginia."
The Project on Lived Theology at the University of Virginia is a research initiative, whose mission is to study the social consequences of theological ideas for the sake of a more just and compassionate world.