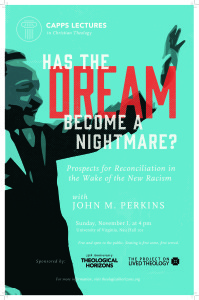 On Sunday, November 1, John M. Perkins will present the 2015 Capps Lecture, entitled "Has the Dream Become a Nightmare? Prospects For Reconciliation in the Wake of the New Racism." The lecture will begin at 4:00 p.m. in Nau Hall 101 at the University of Virginia with a reception in Manley Commons to follow. Admission is free, and the public is invited to attend. Seating is first come, first served.
John M. Perkins was a civil rights leader in Mississippi in the 1960s and founded Voice of Calvary Ministries, a Christian community development ministry, with his wife Vera Mae. In 1983, Perkins established the John M. Perkins Foundation for Reconciliation & Development, Inc., to advance the principles of Christian community development and racial reconciliation throughout the world. His publications include Let Justice Roll Down (2012) and Welcoming Justice: God's Movement Toward Beloved Community (2010).
To be connected to the Facebook event, click here. Capps Lectures in Christian Theology is a program of Theological Horizons and this event is co-sponsored by the Project on Lived Theology.
For more event details and up-to-date event listings please click here to visit the PLT Events page. We also post updates online using #PLTevents. To get these and other news updates, please like us on Facebook and follow us on Twitter @LivedTheology.