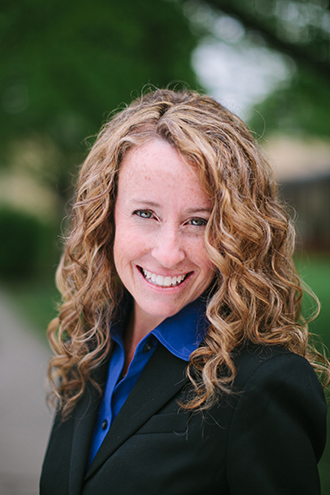 The Project on Lived Theology (PLT) congratulates Jacqueline Bussie on being named the new executive director of the Collegeville Institute for Ecumenical and Cultural Research. Bussie's new position begins on Sept. 1. She will be the first female executive director in the institute's fifty-four-year history.
"I'm overjoyed and humbled by this appointment to serve as the Collegeville Institute's next executive director," said Bussie during an address to the institute's Board of Directors earlier this month. "This marvelous and mutilated world needs the gifts that the Collegeville Institute offers more than ever—world-transforming scholarship, soul-sustaining worship, bridge-building dialogue, and life-giving community."
The Collegeville Institute for Ecumenical and Cultural Research is a residential center that brings together diverse groups of scholars, writers, artists, and faith leaders through its various programs. Located on the grounds of Saint John's Abbey and University in central Minnesota, the Collegeville Institute was founded in 1967 by Fr. Kilian McDonnell, OSB, to nurture scholarly research and promote mutual understanding across denominational differences. The Collegeville Institute is rooted in the Christian Benedictine tradition and sees its mission as fostering the world's healing through the power of religious ideas, insight, and practices.
"In these times of deep division, the Collegeville Institute's mission of bringing people together to bridge differences is needed more than ever," said Bill Cahoy, chair of the Collegeville Institute's Board of Directors. "Dr. Bussie's achievements and commitments prepare her well to lead us into the next chapter for the Collegeville Institute."
Bussie currently teaches religion, theology, and interfaith studies at Concordia College in Moorhead, Minn., where she also serves as the director of the Forum on Faith and Life. She is an award-winning author and theologian. Her books include The Laughter of the Oppressed: Ethical and Theological Resistance in Wiesel, Morrison, and Endo (Bloomsbury, 2007); Outlaw Christian: Finding Authentic Faith by Breaking the Rules (Thomas Nelson, 2016); and Love Without Limits: Jesus' Radical Vision for a Love with No Exceptions (Fortress Press, 2018). Bussie earned her PhD from the University of Virginia's Department of Religious Studies and has an MA from Yale University and a BA from Davidson College.
Throughout the years, Bussie has been deeply involved in PLT initiatives, including the 2005 and 2013 Spring Institutes for Lived Theology (SILT). As part of the 2019-20 SILT, she is co-editing the upcoming PLT publication People Get Ready! Thirteen Misfits, Malcontents and Dreamers for Troubled Times, for which she is also writing an essay on Southern author Flannery O'Connor. Bussie contributed to the PLT book Lived Theology: New Perspectives on Method, Style, and Pedagogy (Oxford University Press, 2017).
The Project on Lived Theology at the University of Virginia is a research initiative, whose mission is to study the social consequences of theological ideas for the sake of a more just and compassionate world.