Pastor, scholar, artist, and producer Gregory Thompson has co-written a new book, Reparations: A Christian Call for Repentance and Repair, with Duke L. Kwon, lead pastor at Grace Meridian Hill, a neighborhood congregation in Washington, D.C. Brazos Press published the book last month.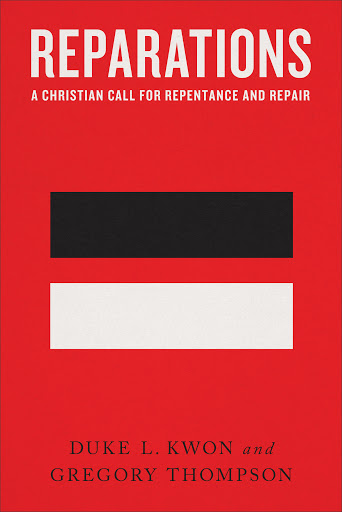 Thompson has worked closely with the Project on Lived Theology, including participating in PLT's 2005 Spring Institute for Lived Theology and lecturing on Martin Luther King, Jr.'s work in Memphis with the sanitation workers' strike, just prior to King's assassination.
Reparations makes a compelling historical and theological case for the church's obligation to provide reparations for the oppression of African Americans. Thompson and Kwon articulate the church's responsibility for its promotion and preservation of white supremacy throughout history, investigate the Bible's call to repair our racial brokenness, and offer a vision for the work of reparation at the local level. They lead readers toward a moral imagination that views reparations as a long-overdue and necessary step in our collective journey toward healing and wholeness.
"Reparations is an exemplary work of public theology, born of chastened Christian conviction and pastoral anguish," said Charles Marsh, PLT director and University of Virginia religious studies professor. "Beautifully written and generous in tone, Kwon and Thompson's book illuminates the costs and joys of discipleship in a nation marked by white privilege and its theological disfigurations."
"We are at an inflection point in our nation. We can either continue with the racial status quo or earnestly engage in the long-overdue process of repair," said Jemar Tisby, CEO of The Witness Inc. and author of How to Fight Racism: Courageous Christianity and the Journey toward Racial Justice. "Reparations is a book for this moment. It is a call to action to offer tangible restitution for the historic exploitation of Black labor. While Christians should have been leading the way on this all along, sadly, too many have demonstrated compromise and complicity instead. Kwon and Thompson marshal deep research, theological acumen, and pastoral tenderness to make a timely call for reparations and the dignity of all people."
Gregory Thompson's work focuses on race and equity in the United States. He serves as executive director of Voices Underground (an initiative to build a national memorial to the Underground Railroad outside of Philadelphia), research fellow in African American heritage at Lincoln University (HBCU), and visiting theologian for mission at Grace Mosaic Church in Washington, D.C. He is also the co-creator of Union: The Musical, a soul and hip-hop-based musical about the 1968 sanitation workers' strike. Thompson earned his PhD from UVA's Department of Religious Studies.
The Project on Lived Theology at the University of Virginia is a research initiative, whose mission is to study the social consequences of theological ideas for the sake of a more just and compassionate world.