The Conference on Lived Theology and Civil Courage – Conference Booklet 2003
Posted on May 7, 2015 by PLT Staff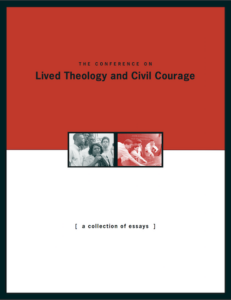 Conference booklet for the Conference on Lived Theology and Civil Courage in Charlottesville, Virginia. The booklet comprises a collection of essays reflecting upon the workgroups that took place from 2000-2003. Participants from the workgroups on Community Building, Race, Power, and City and Congregation contributed reflections.
Excerpt: "The conference is intended to build on the insights and discoveries, and the successes and failures, of the numerous collaborations between theologians, scholars of religion, pastors and activists that have taken place during the past three years, even as it opens up the conversation to a distinguished group of guest speakers and friends of the Project."
Paper Information
Author: Charles Marsh, Wallace Best, Don L. Davis, Mark Gornik, Stephen Fowl, Amy Laura Hall, Omar McRoberts, Christine Pohl, Victor Anderson, Heather Warren, Ellen Armour, Susan Glisson, Barbara Holmes, Luis Pedraja, Stephen G. Ray, Chris Rice, Timothy Tseng, M. Shawn Copeland, Russell Jeung, Eugene McCarraher, Ted Ownby, Gerald Schlabach, Sondra Wheeler, Bruce Beard, Gardenia Beard, John Kiess, Jennifer McBride, Rydell Payne, Peter Slade, Brian vander Wel, Richard Wills,
Creation Date: June 12, 2003
This document is published by the Project on Lived Theology (PLT). For any questions related to its use, please contact PLT (https://www.livedtheology.org//contact/). Copy available for use subject to Creative Commons License CC-BY-NC-ND (Attribution required, Non-Commercial use, No Derivatives, 3.0, Unported.