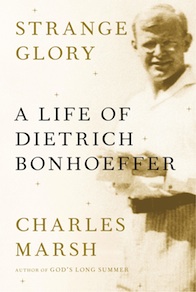 Charles Marsh's biography, Strange Glory: A Life of Dietrich Bonhoeffer, brings to life the struggles, triumphs, and transformations of the theologian Dietrich Bonhoeffer.
"Marsh strikes several notes in Strange Glory which other biographers have not adequately emphasized," commends LA Review of Books. "[T]his Bonhoeffer is profoundly human."
The New York Times lauds: Marsh "guides his narrative with a steady hand" and "renders Bonhoeffer's life and thought in exquisite detail and with sympathetic understanding."
Marsh's work is a "biographical triumph," writes John G. Turner of The Christian Century. "Charles Marsh has written a moving, melancholy portrait of Dietrich Bonhoeffer" that "brings readers closer to Bonhoeffer than any prior biographer writing in English."
The Wall Street Journal notes Marsh's "rare talent for novelistic detail" and reveres the biography as "truly beautiful and heartbreaking." The article concludes, "Strange Glory is a splendid book."
For more information on Marsh's acclaimed and riveting biography, Strange Glory, click here. To for links to more reviews, click here.