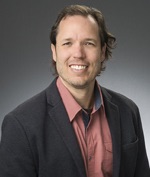 The Project on Lived Theology (PLT) welcomes Guy Aiken to our team. As a PLT research fellow, Aiken will work with students and assist PLT director Charles Marsh with his UVA undergraduate seminars, among other duties.
"I'm thrilled to be a part of the Project on Lived Theology," said Aiken. "What could be more exciting for a theologically inclined American religious historian like myself than to study the social consequences of theological ideas?"
Aiken already has a connection to the University of Virginia's Department of Religious Studies: he earned a PhD in the department in 2017.
While a graduate student at UVA, Aiken wrote his dissertation on American Quaker humanitarianism in Germany and Appalachia between the world wars. This deep dive into Quaker activism created within him an ongoing interest in nonviolence. He would eventually design and teach a course on American nonviolence and the Civil Rights Movement at Villanova, where he most recently served as an assistant teaching professor and a faculty academic advisor. Before that, he was a postdoctoral fellow in the humanities at Villanova.
Aiken recently published a monograph with Brill on Quaker mystic Thomas Kelly. In addition to publishing articles in The Tocqueville Review, Peace & Change, and Diplomatic History, he is currently finishing a commentary on Thoreau's "Civil Disobedience" for a new social reading app called Threadable.
In addition to earning a history MA from the University of North Carolina at Charlotte and a history BA from Queens University of Charlotte, Aiken attended Wake Forest University for theological and ministerial studies. While producing the 2005 play The Last Days of Judas Iscariot at Wake Forest, he also taught the cast of fifteen undergraduates about the play's context.
"Although our previous colleague in this role, Isaac Barnes May, will be a hard act to follow, I know that Guy will bring his own unique perspective and expertise to the Project on Lived Theology, and will be a wonderful asset to our mission," said PLT director Charles Marsh.
The Project on Lived Theology at the University of Virginia is a research initiative, whose mission is to study the social consequences of theological ideas for the sake of a more just and compassionate world.